Dog Whisperer available at HULU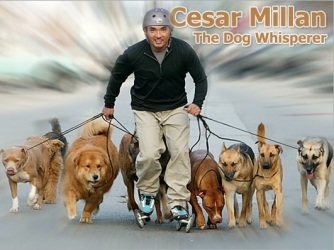 If you have a dog or wish to have one and if you got access to US IP address (we will give you a hint of how to get one in a moment

), there is one series you can not miss. It is National Geographic "Dog Whisperer with Cesar Millan". And the best of all is, that last 5 seasons are all available for you to stream from Hulu. For FREE! Hulu is a well know service that needs no introduction. If you are looking for "legal" ways of watching TV online and you are fed up with browsing through torrents to find your favourite show – look no further. Hulu is the answer.
In order to be able to access Hulu you need to have IP address from USA. Simply, the idea is that only users on US territory can have US IP address. Data stream from Hulu servers will only be send to such IP's. This is where HideIPVPN comes to play.
There are two ways you can "cheat" Hulu servers to think you and your computer are in USA. First one, is to use proxy server. You need to remember that this will only work with internet browsers and although great for streaming it will not increase on-line security for your data.

Second option is to use VPN tunnel. Once connected to a VPN server all your data and traffic are send encrypted (even your ISP can not monitor your web activity) and since all traffic is routed via VPN this means that US IP address is given to all applications, not only browsers. This way, if you can get Hulu Plus subscription there is no problem in using Hulu app on devices like iPad or Android tablet.
So, now you know how to watch. Once you are done with few (or all) episodes, please let us know what do you think about the show and if it did help you and your dog in any way. Enjoy the show!