How to unlock VOiP services – Skype, Viber, Google Talk?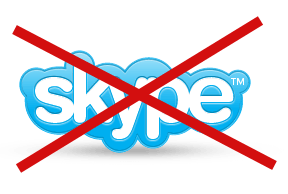 Internet communicators are very popular. Right now, with smartphone market growing every year applications for Voice over IP are more popular than ever. But it also creates problem for some users. As it turns out VOiP services are blocked in many countries, as well as in some local networks (hotels, offices, etc.) where you would never suspect that they might be blocked. But don't worry – VPN will do its magic! So, you want to use one of the VOiP applications and they don't want to work. How to unblock VOiP ? Is it difficult? Is it expensive? What is technology one should use?
Short answer is – no and VPN is the answer to all your problems. Regardless of where you are work, hotel, school or country with strong internet censorship. VPN unlocks Skype, VPN unlocks Viber, VPN unblocks Google Talk.
First you need to start with choosing right VPN provider. Of course we HideIPVPN is the best VPN provider out there. Great, flexible VPN packages, that will be satisfactory to all needs you might have.
Our service works with all VPN protocols and offers layer of additional security with proper encryption of users data. In case of VOiP service it simply means that local ISP or Wi-FI provider can not listen to your voice conversations.
Our unlimited VPN plan can be yours for as little as $5.99/month without any contract whatsoever. Beside all the good stuff connected to increased anonymity provided by VPN you will also get to access restricted content in the internet like Hulu, Netflix or BBC (if you choose our super UK VPN package).
So, you got your plan, now – how to use VPN? If you are on Windows or OSX platform its easy. Download our free VPN application, enter your login details and you are done. On iOS and Android you will have to create VPN connections by hand. Its not hard and detailed instructions and tutorials of "How to setup VPN" in our SETUP section.
Once your VPN connection is ready to use activate it. Than fire up VOiP client of your choice. All vice data will be first encrypted and then transferred via VPN server you have connected to.
But that,s not the end of good news. Look carefully through our VPN offer. In some plans you will find additional position called SmartDNS. It is new feature that allows for very smooth and easy access to most of US and UK streaming sites. For those of you who like to watch HD content this is perfect solution – Smart DNS unlocks US and UK services in very simple and elegant way.