Netflix Super HD goes live for all!!!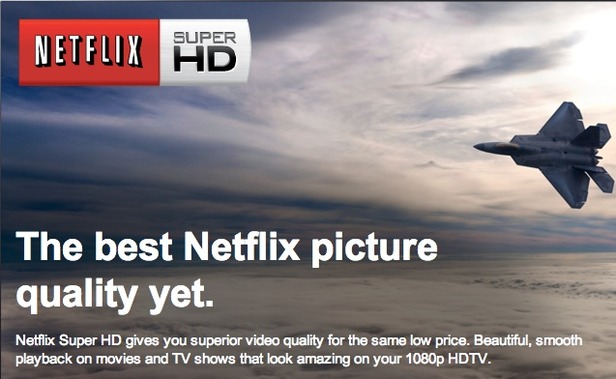 Great news for all of you with our fast SmartDNS unblock service and fast broadband connection. As you know, there was not much more we could ask from Netflix. As it was, it was one of the best and most convenient VOD services in the internet. Available on almost any platform, TV, with vast selection of shows and movies for very reasonable price. It was for all TV and movie lovers a "must have" service. Thanks to good VPN services (like ours) it was made available to much wider public than just US citizens. VPN and Netflix were (and still are from some) very good brothers. Unlocking Netflix and accessing it from outside US with VPN is very easy. But as you know from our posts VPN vs/or SmartDNS it has it's limitations.
VPN is great…. but…
VPN is perfect for IP change.Connect to VPN and your IP (ID under which you surf the internet) can be changed instantly. Because VPN traffic is encrypted, VPN is perfect for increasing privacy and anonymity in the world wide web. But when it comes to streaming it has it's downsides. Because as we just said VPN traffic is encrypted, because all data send and received have to go through VPN server (and in reality quite few other severs between VPN and target), even if you enjoyed at home very fast broadband (as are our VPN servers – very fast) reality of technology meant, that actual speed was limited.
Until now, with standard quality of streaming offered by all VOD services like Netflix, Hulu, ITV, BBC it did not really matter. But now we are moving towards Full HD streaming over internet. Next will be 3D streaming and 4K soon to follow. In many cases (depending on your ISP and your physical location) VPN might not be enough to stream such large amounts of data.
SmartDNS is best to unlock Netflix Super HD quality
Luckily for all of us there is Smart DNS. SmartDns is the best solution for unlocking many popular video and music streaming services. Either install our VPN software (Windows version for now) or simply change your DNS settings in accordance with our instructions, register your IP address and you can enjoy video streaming in full capacity of your broadband.
This is great news! Netflix first limited its Full HD streams to subscribers in US only and only to people having broadband from certain providers. Right now, with new type of compression method Netflix made SuperHD quality available for everyone (almost).
How fast your broadband needs to be if you want to enjoy higher quality from Netflix?
Netflix says, that subscribers need a minimum of 5Mb/s to stream high definition content smoothly. If you want to watch shows and movies in Super HD quality Netflix recommends 7Mb/s as the minimum. We found information that in future, to enjoy Netflix content in 4K quality you will need minimum of 15 Mbps bandwidth. Small selection of 3D titles will join the Super HD content. But be aware that least 12 Mbps of bandwidth to access 3D streaming content. Super HD or 3D content can be identified by logos on the content description pages. Most of Netflix's original programming – "House of Cards" or "Orange is the New Black" should be available in Super HD quality.