Apple VPN application updated for SmartDNS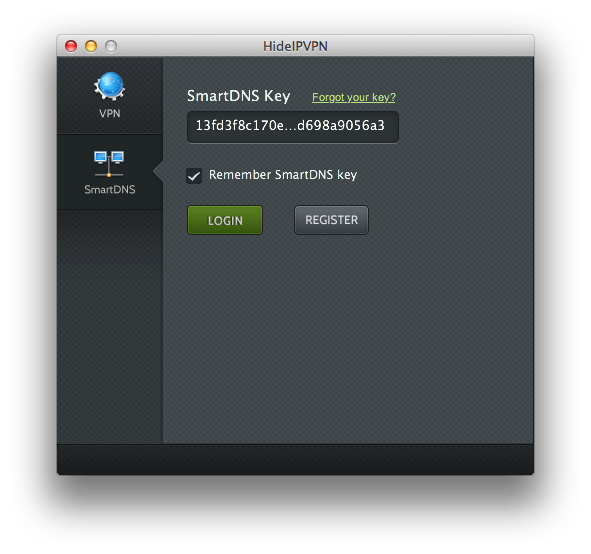 It has been a while since we have last wrote about our VPN software for Mac and Windows. We know we have put your patience to a great trial but better late, than never! Your VPN application for Mac OSX finally got updated! HideIPVPN Apple OSX VPN software you use currently is a great help to any Apple Mac and VPN user. It lets you choose country you want your IP address from or type of connection with few clicks. Instead of spending precious time on setting up VPN on your Mac we gave you great VPN tool to hide your IP address, to be safer online with VPN, to access regionally restricted services like Netflix, Hulu, BBC and many more. As you have probably read (check previous post on our blog) – visiting any web site under your own IP address can end up with legal problems (sear for RedTube VPN). But VPN is not the only tool or service we offer to stream videos and music from geographically blocked web sites.
SmartDNS for Apple OSX – unblock Netflix and Hulu with few clicks!
As you know, HideIPVPN beside VPN network also offers you access to the internet through Smart DNS. SmartDNS is a bit different from VPN (you can find plenty of posts about it on our blog). All you need to remember, that id does not hide your IP address as VPN is, but at the same time it is more versatile service that allows access to restricted video services on larger number of devices.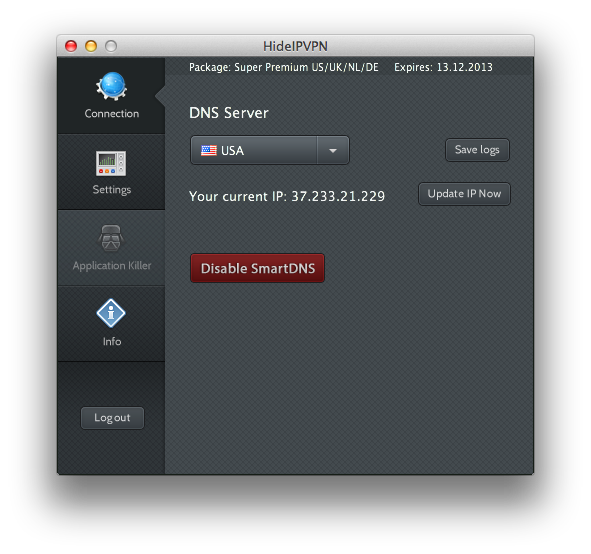 Above you can see another screen from our updated VPN & SmartDNS for OSX. We would like to remind you that for best experience of DNS use, you should choose DNS server closest to your physical connection. At the moment, users can either choose SmartDNS server located is USA or Europe. Remember, that you do not have to change those servers to access sites in US or UK. Both our DNS will grant you access to Netflix and BBC. This is one of the differences between VPN and SmartDNS. With VPN you have to replace your IP address every time you want to change country. SmartDNS does all the necessary tricks for you, but it does not hide your IP!
Peek at SmartDNS setting to personalize our VPN OSX application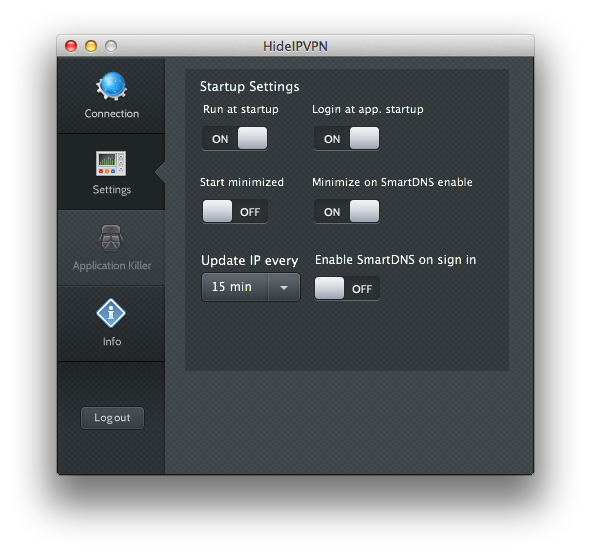 As you can see our SmartDNS function offers quite few settings that should make everyday use our app even more pleasurable. If you have any questions feel free to contact us. You DNS key (necessary for login to DNS network) can be found in your "Client area" on our site. Updated version of Mac OSX application can be found here.