Free VPN & SmartDNS giveaway #1
Some of you might remember, some of you might not. In the past HideIPVPN was trying to help those of you in need of good, free VPN. We understand that not all of you can afford a Premium service and we understand that some of you would wish to test the service before you decide if it is something you like and need. 
Free VPN – what is it all about?
Nowadays, in almost all countries in the world internet users are subject strong surveillance. In some cases it is your ISP that is spying on you (for different purposes, in different locations), internet sites cooperating with big corporations (BIG DATA collected by Big Brother), government agencies as well and all sorts of digital criminals. Data you exchange with the internet, your (on-line and real life!!!) identity, your on-line habits, sites you visit it all has value. This is why VPN is so important to any internet user today.
It is a technology that allow you to increase you safety and anonymity. By changing your real IP address, hiding behind VPN server and encrypting al your data this task is a lot more difficult for all above mentioned. What's more VPN allows to use get access to geo-restricted sites and services. In our giveaway you will get a choice of free US/UK VPN or free NL VPN (VPN server located in Holland allows for unrestricted P2P and torrent traffic).
Free Smart DNS proxy – best for streaming?
Ever tried to access and use Hulu, BBC iPlayer, ITV Player, Crackle, Netflix, Pandora, Spotify? And every single time you were told that "Sorry, but this service is not available in your location". Free proxy SmartDNS (that you can win in this give-away) puts an end to that. Best sound and picture quality from all US and UK video and music services is guaranteed. No delays, no buffering and what is even more important – Smart DNS will work with almost any device. Win, choose it and use it!
Free VPN & SmartDNS….
We will do our best to repeat such give-away once a week (different days, different times). Next time you will see photo below it will be with a lot shorter introduction. It is important that you follow instructions to the letter! Please bear in mind that if you give us e-mail address that is currently associated with an active account we will not be able to give you an account.
And if you do not win account this week, don't worry! We will run another giveaway next week and you can always use our free proxy DNS trial (7 days unlimited).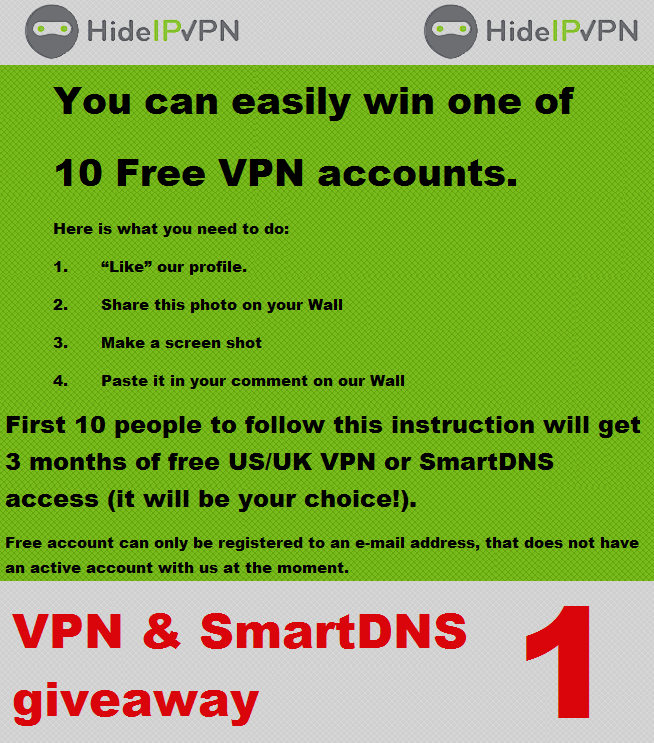 Both Free & Premium accounts can be used with our Mac OSX and Windows VPN & DNS applications (for easier setup & use).
Update: This give-away is now over – make sure to visit our blog & Facebook Wall next week for more free accounts!