Free VPN & SmartDNS giveaway #2
Remember our post from last week when we have promised more giveaways of Free VPN and free SmartDNS accounts? Here we go with round two! 
Free proxy DNS – SmartDNS Premium
As you know this is our younger service (when compared to "traditional" VPN) specifically designed for video and  music streaming form unblocked US and UK sites. If you like watching Hulu, Netflix, Crackle, BBC iPlayer listening to Pandora or Spotify and you device (SmartTV?) does not support VPN connections Smart DNS is your best option. Easy setup on device itself or on your home router and all above mentioned services (and more!) are yours to enjoy! For complete list of unblocked services (with content locked behind geo-restrictions), please follow this link – SmartDNS unblocked sites.
Free US VPN & Free UK VPN – in one Free VPN!
In short, a proper, fast VPN that will hide your IP address and change it to US IP or UK IP address – all for free with no other limitations.
Our free VPN will allow you:
Connect using PPTP protocol.
Access both US and UK VPN servers
Encrypt and compress all traffic including IRC, FTP, DNS, VOIP, instant messengers.
Bypass your ISP's traffic shaping.
Hide your tracks from internet monitoring or web filtering apps like Websense, Barracuda, etc.
If you want one of such accounts read what we wrote on our little graphic below and act accordingly. And hurry – 10 free accounts it is not a lot!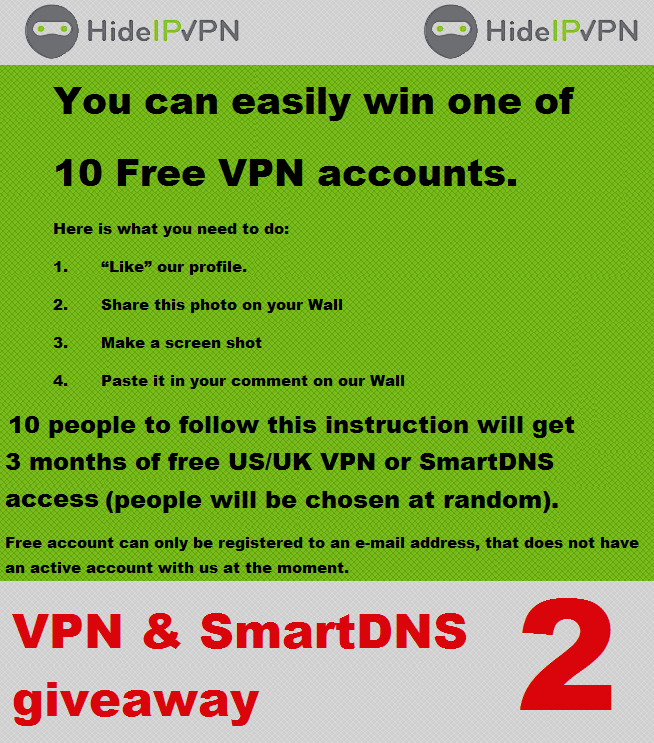 Once giveaway is over we will let you know!
Update: This give-away is now over – make sure to visit our blog & Facebook Wall next week for more free accounts!