Free VPN & SmartDNS giveaway #3
It is almost weekend so it is time for third edition of our giveaway of Free VPN and SmartDNS proxy accounts. As usually offer is exclusive and truly limited so if you want to hide your IP or unblock best video and music sites in the internet – HURRY! 
Free VPN will allow…
Grab one of this accounts if you want to change you IP address. Need 100% free UK IP address or 100% free USA IP address to access Hulu, BBC, Netflix, Crackle? Free US/UK VPN from HideIPVPN will grant you both! If you are more into anonymous torrents and P2P file exchange, grab one of our famous free torrent VPN with VPN server located in Holland. Beside that our free VPN package will allow you to:
Connect using PPTP protocol.
Encrypt and compress all traffic including IRC, FTP, DNS, VOIP, instant messengers.
Bypass your ISP's traffic shaping and potential throttling
Hide your tracks from internet monitoring or web filtering apps like Websense, Barracuda, etc.
Premium SmartDNS = free proxy DNS service
For all movie and TV "fanatics" around the world we have a different prize and product. We understand that you are mostly interested in "hacking" your way to get to Netflix, ITV Player, BBC iPlayer, Hulu, Crackle and other video/music streaming sites. They all restrict access to users in specified locations like US or UK. What's more, devices you use or want to use – like TV or game console do not support VPN. With simple tweak of DNS settings (in your device or network router) you will be able to brake geo-restrictions of all those services.
Remember, that with both free VPN and free Smart DNS proxy service you can youse our free application for Windows and OSX!
Now, if you want one of such accounts –  read instructions below and act accordingly. 10 free accounts is waiting for you!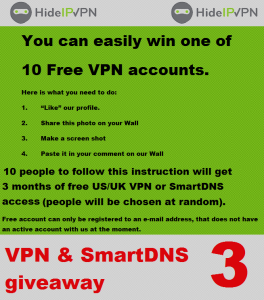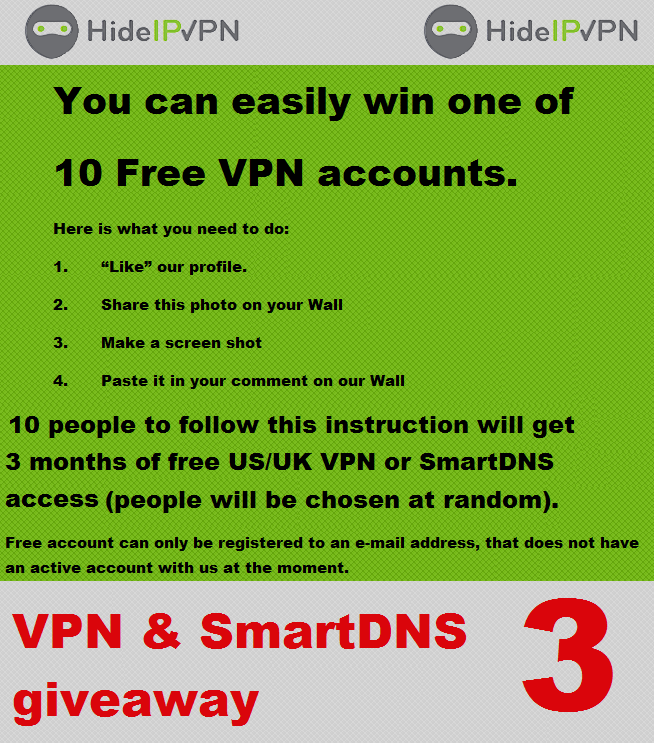 Once giveaway is over we will let you know!
Update: This give-away is now over – make sure to visit our blog & Facebook Wall next week for more free accounts!