What is PPTP VPN protocol?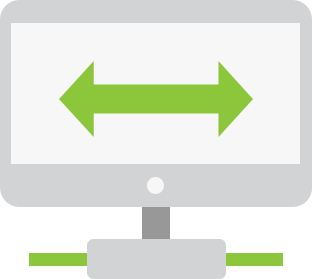 PPTP or Point to Point Tunneling Protocol is one of the oldest, if not the oldest VPN protocol available. Developed by Microsoft over 20 years ago, it is with us to this day. As others, it was created to encrypt data exchanged over unsecured networks. Here is why you may want to use it and why you might want to use a different VPN protocol.
What is PPTP & why is it so popular?
As we just said it is the oldest VPN protocol. Developed by Microsoft it was quite quickly added to Windows. As you know, before the mobile era Windows was the most popular operating system in the world. With present PPTP VPN support, PPTP protocol was the number one choice for all users that wanted to encrypt data.
Nowadays, it has one more – small but sometimes important – benefit over other VPN protocols. As it comes from 90's, it is the least CPU demanding protocol out there. That means, users with less computing power might be interested in VPN protocol, that will put less stress on their devices.
How does PPTP work?
However, the fact that the PPTP protocol is so "light" when it comes to computing power comes at a price. It has lower encryption levels when compared to modern VPN protocols. Also, being with us for 20+ years it is well known to everyone including hackers or government agencies.
It is based on authentication, encryption and PPP negotiation. PPTP protocol encrypts data, encrypted packets are sent over the virtual tunnel that creates a secure communication method over LAN or WAN networks. Thanks to the encapsulation of all data – encryption and neede authentication, it is safe to transmit data with PPTP  through public, unsecured networks like the internet.
Technical Details of PPTP VPN protocol
– PPTP VPN protocol supports up to 128-bit session key encryption.
– PPTP VPN protocol to authenticate needs username, password and server address to establish a reliable and stable.
– PPTP VPN protocol is supported by Windows (including XP, 7, 8, 10), Linux, Tomato, iOS, Android, Mac OS and others.
– PPTP VPN protocol uses TCP port and GRE for port configuration.
Advantages and disadvantages of PPTP VPN protocol
Like any other VPN protocol, PPTP has its own advantages and problems – some of them we have mentioned above.
The Good
– PPTP VPN protocol can be used on a massive range of devices and computer system
– PPTP VPN protocol has massive support from users and in general easy to configure.
– PPTP VPN protocol with its low level of encryption is one of the fastest VPN protocols – quite often it is used to unblock and stream video content from may different VOD and TV services around the world.
The Bad
– PPTP VPN protocol is old and is not as secure as other VPN protocols
– PPTP VPN protocol is not the best option where true online security maintaining online anonymity is needed
– Starting with iOS10 and macOS Sierra, PPTP is no longer supported.
– There are rumors that agencies like NSA are able to crack PPTP VPN protocol
To summarize…
You do know how PPTP VPN protocol works, what are its advantages and disadvantages. If you have any further, more detailed questions feel free to get in touch with us and our friendly experts will be happy to talk to you. In short, PPTP is OK for watching movies, but not the best if you wish to criticise authorities in your country.