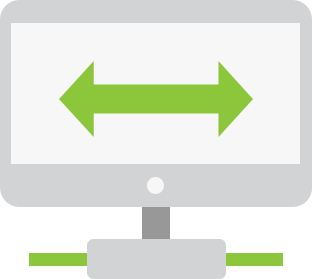 If during your VPN research you came across a name like Smart DNS you are probably wondering – what is Smart DNS? How does Smart DNS works, what it does, how, where and when can you use it? And finally is there any difference from VPN? In this post we will try to answer those questions. If VPN is also something you'd wish to know more about, start with this post from our academy – How VPN works? 
What is Smart DNS?
In short – Smart DNS is a combination of DNS server and proxy server or servers. We know, this does not explain a lot. In order to understand what is Smart DNS we need to start a level below, with "ordinary" DNS.
As you know, all websites, services online – each connected device has its own IP address. For example, Google website address is 172.217.22.46. Try and enter, instead of www.google.com enter 172.217.22.46 in your browser address bar.
There are millions of computers, servers, devices, services and websites operating online. A real jungle! We made it easier by replacing the needs to remember sets of numbers – IP address – with names for places we wish to visit. But all those data  – content is in a specific place on the internet.
Mentioned Google website is on a different server than Bing website or Netflix website and this is where DNS kicks in. DNS servers are sort of general maps of the internet. When at home you enter in your web browser your query goes first through DNS server. This server "knows" where your data should be directed in order to open the website you requested.
How does Smart DNS work?
Smart DNS uses the same rule but in a bit different way. If you wish to unblock a service in a different country, let's say you wish to unblock Netflix USA you need to use US VPN service – to be able to surf under US IP address or connect through US proxy server.
Smart DNS makes this a lot easier. Some websites/services that Smart DNS has listed are marked in a special way – if a user wants to access them instead of sending data directly – like normal DNS server – it redirects them to a specific proxy server. This way within a heartbeat site you want will open on your device. Netflix, HULU, HBO Go… anything. Without any additional effort form you, setup, etc.
Smart DNS is especially great if the device you wish to use does not support VPN. However it is worth to underline that Smart DNS does not encrypt data like VPN nor does it change your IP.