Best ways to unblock music sites in USA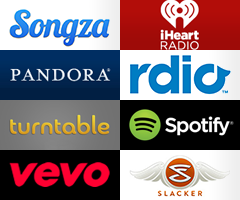 As it happens in the recent post we have focused on video services. What to watch, where to watch, how to unblock US Netflix, how to change access to its UK library or how to enjoy free Hulu videos. It is high time to remind you all that our services can do more! 
Unblock Spotify or Pandora…
…make it work in your country. First of all, let us do some introductions. Our regular visitors and users already know most of those informations, but again, this blog is targeted at people searching Google for information about new services and ways to brake regional restrictions. In order to understand how it is all working we need to start with some basics. You, your identity (in some cases), your location (always!)  are recognized by all services and sites you visit by your IP address. This is your internet home address assigned to you by your ISP. This number is visible to all other computers & servers you connect to so that the know, where to send information you requested. In theory there is nothing you can do about your external (visible to others) IP address. But in real life although we can not change your IP address, we can hide it! Our service creates additional layer of security between you and the internet -making you and your original IP invisible.
Connect to VPN – change IP
Each country ISP has a certain specific numbers it is allowed to use as IP for users. Because of that it is very easy for anyone to know exactly where do you connect to the internet. However, you can connect to VPN server and let all your data flow through Virtual Private Tunnel. When this happens all sites and services you access (simply by entering www.anyadrdressyouuse.com in your browser)will see IP address of our VPN server as you. Creation of VPN connection is extremely easy and you will find all needed (step by step) instructions in section setup VPN. Once your original  IP address is hidden and you are connected to (for example) USA VPN server, you can access and use any service in USA – all of them will recognize you as located in USA.
Proxy DNS – SmartDNS…
…for devices without VPN support. We understand that sometimes you may wish to use a device that does not support VPN. For such occasion we have created new type of service – SmartDNS. This service uses network of proxy servers as well as special DNS server. Not to get into to many details here (you can find all relevant info in other posts on the blog) all you need to know, that with single set-up you will gain access to unblocked sites and services in USA and UK.
And since USA in far more ahead with streaming services you will also get to listen to your favourite music. Now all you need to do is to fine service that suits your need. Free Spotify, Pandora, Vevo, rdio – they are all fully unblocked through both our US VPN and SmartDNS. Simply try! If you have any questions, you can join us at Facebook or simply use our support system!