Premium UK VPN for $5.99/month – truly awesome deal!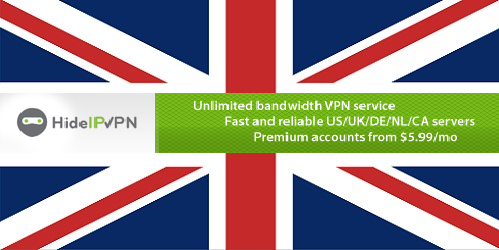 Probably quite few of you is standing before a choice, what sort of VPN package to choose US or UK, from which VPN provider to choose and will it be the best way to "hide my IP address" will your data and identity be hidden / encrypted, is this provider storing logs of your on-line activity?We hope that this post will help you a bit in making up your mind. Since you are on our website this means you have read plenty of positive opinions (simply "google" us out).
As all our other VPN packages UK VPN gives you all the VPN technology has to offer. First of all we are one of the cheapest and at the same time for your money you will get a proper, Premium VPN package with no hidden extras or any limitations to how you can use it or what you can do. This means that once you subscribe to our service and choose Premium UK VPN you will be able to:
connect to any of our super fast VPN servers located in different cities in UK (5 different servers available in the packge)
use this package with almost any device available – any Windows PC/laptop/ tablet (including new Windows 8!!!), Mac OS, iPad, iPhone, Android phones and tablets
use any VPN protocol you want – PPTP, L2TP, STTP and Open VPN
access sites vie our Proxy (this is why)
be safe, be hidden, be anonymous at all time
Beside all that you will also get some additional benefits. Once you change your IP address to UK IP address your computer will be recognized as physically present in United Kingdom. This means that all sites you visit will recognize you as "local" ;-). Because of that sites (especially with VOD & live video services) like BBC and its famous iPlayer, 4oD, ITV, Netflix or LoveFilm will be available for you.
With our VPN service not only you will be safe while surfing the net but also you will gain more ways to relax. You can (and should) use VPN connection everywhere. At home, during holidays, when you need to access your bank when using unsecured Wi-Fi networks and hot spots.
If you got any further questions leave your comment below or catch up with us on Facebook or Google +