Egg-cellent Easter promotion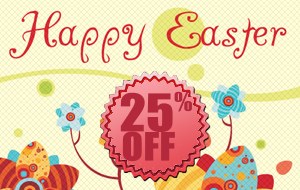 VPN services to hide IP and be more anonymous in the internet, as well as proxy SmartDNS to unblock US and UK streaming sites are getting more popular everyday. We can see how community of our satisfied customers is growing daily with new fans joining our Facebook  and/or Google Plus social networks. Because of that HideIPVPN is also looking for an "excuse" to give more people to try & buy our services cheaper. 
Happy Easter everybody!!!
Let us, whole HideIPVPN Team start with our wishes to all of you around the world regardless of you race or religious beliefs we simply wish you all the best! Lots of love and happiness in your life. Have an "egg-cellent Easter!
VPN or SmartDNS – why not both?
Our Easter deal is very simple but that does not mean it is without a catch. Before we will disclose all the details let us  try to help you make a decision of what service and what package to choose.
SmartDNS is a proxy based service used to unblock access to video and music streaming sites in USA and UK. It does not hide your IP, it does not encrypt your data and traffic, it  does not change your IP address, it will not hide your on-line activity from your own ISP. But if your are looking to unblock US or unblock UK on many different devices, watch Netflix, Hulu, BBC iPlayer in HD or SuperHD quality. Enjoy your favourite shows on Smart TV or devices without VPN support, this is your choice number 1. But if you would like to get a wider range of services, look at our VPN – and don't worry, you will get free SmartDNS if you buy our Premium VPN.
VPN is a bit different from SmartDNS. This service places VPN server between you and the rest of the internet. Sort of like Venetian glass – you can see everything but outside world only sees the glass – VPN server. This way you can change IP address in seconds. You can hide behind VPN server and no one will see what you do, what sites you visit, what data you download or upload. If you are looking for true anonymity in the internet, if you want to use P2P and torrent networks (and that is "frowned" upon in your country) but still would like to use proxy & SmartDNS – get our VPN.
Get 25% off your package – 1 or 3 times!
Our promotion is very simple but with a small catch. It is solely up to you if you will get 25% off VPN and/or SmartDNS on your first month or first three months! How does it work?
Sign up for VPN or DNS package of your choice and during registration use this code "VPN25EGG" – you will get 25% our normal price on your first month of service. And this is where the catch is… you can still get additional 2 months with 25% discount!!!
Simply share your Easter decorations on our Facebook Wall (under our Easter promotion entry) – every single user will be rewarded with 2 additional months of discounted price of chosen package.
Please, bear in mind that only monthly billing cycle packages are part of this promotion! Promotion is valid from 18.04 (today) till 22.04 (Tuesday).