Best SmartDNS and VPN for Germany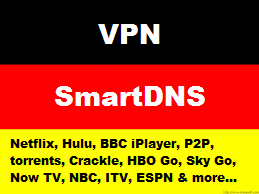 Are you tired of German TV? Or are you perhaps an American living in Germany? Or maybe you have any other reason to be safe, invisible and still keep the full freedom when browsing the internet? In article below we will tell you why ours is the best German VPN. Why going with our proxy and SmartDNS is the best choice you can make. 
Besten VPN-Dienst in Deutschland
No doubt you already know that you can hide IP address with VPN. The idea behind it is that your own IP is hidden behind VPN. VPN is like a mask. Because to all outside world you are not visible any more (once connected to VPN server) all sites and services identify yo (or rather don't) with IP address of VPN. This means, that as with mask you can have IP address from any country you want.
Best VPN in Germany – reason 1
With our VPN service you can choose package that will give you all that you need in very competitive price.
IP address from US, so that you can watch Netflix, Hulu, Amazon Prime Instant, ESPN or use any other American service exactly the same way, as if you would be in USA.
IP address from UK, so that you can watch BBC iPlayer, ITV, 4oD and many more UK sites and service.
IP address from Germany!!! So that you can browse German sites, post comments, etc… as you would under your own, Greman IP, but with complete anonymity and safety.
Best VPN in Germany – reason 2
You want to use one of the services mentioned above, but your device (TV set) does not support VPN. What to do? How can you watch Netflix or BBC on your TV in Germany? It is very simple, with our VPN packages you also get great streaming service – Smart DNS. SmartDNS is perfect for streaming live TV on-line. SmartDNS is best, if you want to watch HD movies on-line. Our active DNS service recognizes the best way to unlock flow of data. You do not have to worry about hiding your IP before streaming, connecting to US or UK server in order to get virtual IP address. We will do all necessary tricks for you!
Best VPN and SmartDNS in Germany – reason 3
You got great service and choice of all needed IP addresses – US, UK and German. You can use SmartDNS service at no extra charge (the same goes for proxy servers – with our VPN proxy is free!) but there is one more reason. We are one of few VPN providers that will allow you to use torrent and P2P file exchange via VPN.
This means no letters from any lawyer that you have download wrong file or that you have streamed copyrighted content (have you heard about RedTube problem)?