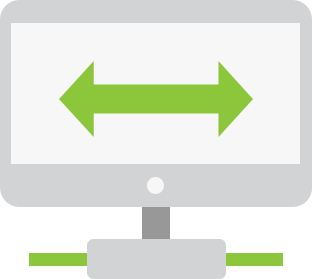 If you have started to look around for a good VPN service, without a doubt one of the early questions you have asked was… How does the VPN works? So… to help those of you who are at the beginning of their VPN tunnel journey here is a short take at how VPN works?
By now you know that VPN stands for virtual private tunnel. Of course, this type of connection is not a real tunnel. However, name quite nicely shows what is the idea behind VPN.
Before we get to How VPN works!
Let's try to understand what happens when your device – phone, tablet, PC, TV, etc… connects to a service – www, game server, streaming service another computer in torrent network….
Ok, so first your device connects to server provided by your ISP. Your ISP is the one who gives unique number to your device – IP address. This kind of information is logged – that means at any time your ISP can inform authorities, court, etc. who – which client – was using IP address no xxx.xxx.xxx.xxx
Quite often, your ISP will know (log) following information:
– Time when IP address was assigned to you – from – to
– Your browsing history as well – meaning it is easy not only to find person using specific IP address. With the help of ISP logs it is also easy to confirm what exactly user was doing online
In a way is like having a porter in your house. Someone who will open the door for you, but not only that. Someone who knows exactly when and where you are going and what you bring back. Yes, your ISP has quite an insight into you and your activity.
It is also worth to remember, that through your IP address external services can also get quite a nice picture of you. In some cases, like Bittorrent downloads your visible IP address can be used like an open invitation for troubles.
So… how VPN works if you say it can help?
Now you know, that your connection – data – flowing from your device to a target somewhere in the internet and back passes through many other servers and networks. Starting with infrastructure of your ISP.
The further it is – in physical terms – to data you wish to get to, the more other servers and networks will be passed on the way. This also affects the "speed" of connection and response time. On many occasions those servers/networks can also "see" who (what IP address) connects to what service. And sometimes they can even now the type of data exchanged…
Now… imagine that somewhere in the middle of such "mess" – your device – many other servers, there is a very specific one – VPN server.
Now imagine another thing. Special, encrypted connection between you and this VPN server – a tunnel – virtual tunnel.
What that means is your ISP – and other servers between you and VPN server – can see that there is a connection between you and VPN server, but:
– They don't know what data you exchange
– They don't even know the type of data you exchange
– They see VPN server as your actual target – end of line. They are unable to say if through VPN server you connect anywhere else and where
From the other end – the internet – VPN server acts like an event horizon. An impenetrable wall.
Even better. Services, websites, and all other computers you will connect to – in most cases – will not even know that it is a wall. Form most of them, the VPN server and it's IP address will be you.
Now you know how VPN works – and therefore…
VPN is great for unblocking services from one country in another, hiding IP address. Through this "change" of IP address and encrypted connection it improves your online privacy. So, even though the VPN tunnel is a virtual one it really works great where anonymity and data safety are in question.