Thanksgiving, Black Friday & Cyber Monday VPN sale!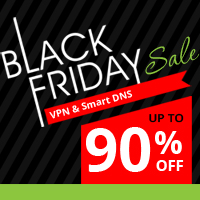 2016-12-01 Update! This promotion has ended!
2016-11-29 Update! Promo will end on 11/30!
Thanksgiving, Black Friday & Cyber Monday. WOW! This just begs for an awesome VPN SALE! We try to never disappoint in this regard so here it is. We official start our autumn VPN sale today! 
VPN Sale – why should you care?
You may know, that quite often we encourage you to test our VPN service. This way you know exactly what you will get once you decide to subscribe. You can still do it today, but since our special offer is limited we will simply tell you what we offer. This way, you can just jump directly to sale and get the best VPN for yourself.
Use one of the best VPN service!
Although it may not sound modest we are very proud of our VPN service. If you decide to subscribe now, beside saving cash you will get following benefits:
great free VPN apps for Windows and MacOS as well as for iOS or Android devices. It was never easier to create VPN connections and use it.
proper VPN encryption of all your data – on Wi-Fi and GSM networks
ability to choose & connect to one of 29 fast VPN servers – up to 1 Gbps/per user
ability to use internet, including P2P and torrent networks in privacy & anonymity
easy way to break restrictions for web sites and online services
no contract, no logs!
great and friendly support 24/7
all our VPN plans include matching Smart DNS and proxy service for free!
VPN Sale details & how much you can save?

Our Thanksgiving, Black Friday & Cyber Monday VPN sale starts today and will end on 29th of November. Depending on the billing period you choose you can save up to 90% OFF! We really can not make this offer any better. To get discount on your top VPN plan simply click below. No codes needed. Choose which package suits you best & subscribe.