HideIPVPN is Heartbleed safe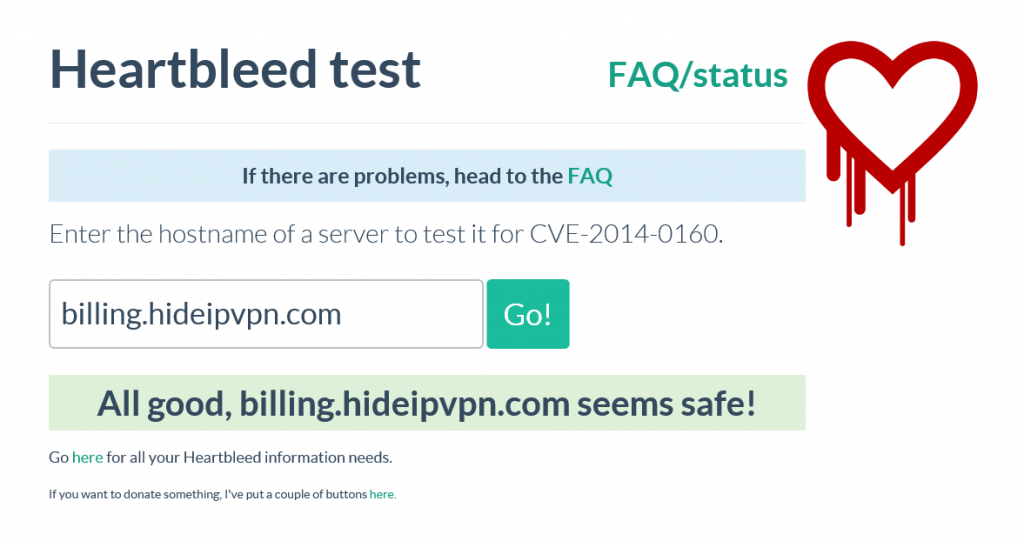 We are certain many of you have heard about "Heartbleed", recent bug or loophole in OpenSSL protocol. We wanted to let you know that you are safe at HideIPVPN! OpenSSL is one of the most popular libraries used be web servers.When you log into you bank account, our client area or any other place that hold sensitive data in the address bar you should see a green padlock, next to https (http secured). In theory, that meant that you connection to server (sort of a different VPN tunnel) is secure (encrypted) and that if anyone would happen to get to data you exchange all he will get is recognizable gibberish. As it turned out few days ago that is not true.
Open SSL is not secure – be careful!
Now it turns out that there is a serious bug in this protocol. What is worse for user is that there is nothing you can do about it from your end. Bug has to be fixed by server administrator.
Since we do take all subjects security and privacy related very seriously we took immediate action and our billing.hideipvpn.com part of the site is fully secured. You can check any site you want against Heartbleed problem here .
In the mean time we would advise you (as always) to put additional layer of encryption on your connections by activating a secure VPN connection. Today hackers are using methods to steal your data that you will read about tomorrow – why make things easy?
Try our free VPN today and remember, our packages come with free proxy servers and free smart dns access included!