HideIPVPN VPN application for OS X & Windows – updated!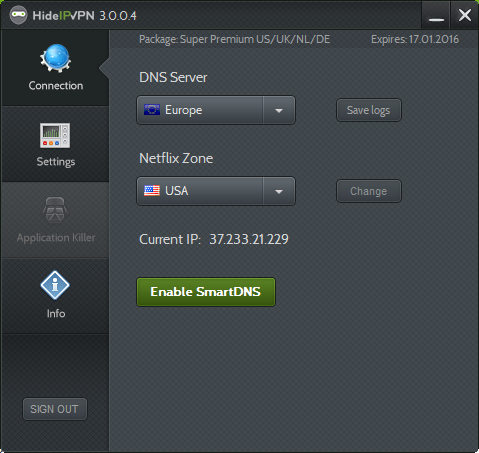 Great news (as always!) from HideIPVPN. Not that long ago we have told you that you can now get access to TVCatchup, now we bring you update of our awesome free VPN application. From your feedback you know that you use it on a daily basis and that it is helping you with VPN connections and SmartDNS unblocking of different sites and service. If you have any feature suggestions we do want to hear from you. E-mail, Facebook, comments on blog, all and any will do!
If you are a HideIPVPN customer and you have not tried our VPN app for you Mac or Windows PC, do it! We promise you will not be disappointed (download here).
VPN & SmartDNS app –  what's new in version 3.0.0.4?
We have made this version even more stable for your benefit. We know, that even with previous version there was not many issues, but we have checked the code yet again to make sure all bugs are gone. With the current version however we thought we will try to make your Smart DNS life even easier!
One of the great SmartDNS features, that we know you love is ability to access Netflix library in both US and UK. But until now this was not very user friendly. You had to log in to your "Client area" on our site, choose your SmartDNS or VPN package and change Netflix region by hand. Now, those times are gone. Download and install latest version of our app, or simply update version you have and you will be able to change of Netflix region in the VPN application!
Do you wish to see any other features?