How to watch Sherlock season 4 on BBC iPlayer!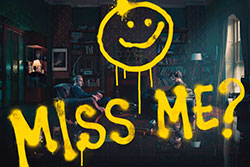 Happy New Year to all of you!!! We could not start New Year in a better way! New season of BBC Sherlock is out there! With us, our UK VPN and Smart DNS you can watch it anywhere. Learn how to watch Sherlock season 4 on BBC iPlayer & enjoy! 
Sherlock – one of the most exciting and cool British TV shows of recent years with great performances by Benedict Cumberbatch as Sherlock & Martin Freeman as Watson. Cool, updated story of Sherlock in modern world. If you have not seen previous seasons try to find them online. If you did, than you know exactly what an awesome treat Sherlock is. As we mentioned Sherlock will be available free to stream via BBC iPlayer, that means you can watch it when you want and where you want. Here is our small reminder how to unblock BBC iPlayer and how you can Watch Sherlock season 4 outside UK.
Watch Sherlock season 4 with VPN
In most cases using VPN service to unblock "geo-restricted" content is choice number one. We strongly recommend this method. Beside the fact that you can use any UK TV & VOD service it also helps with your online security. If your device supports VPN all you need to do, once you subscribe to our VPN service, is to download our free VPN app (available for: Windows, Android, iOS, MacOS). Log in and simply connect to a VPN server of your choice (to use British BBC iPlayer, please choose one of UK VPN servers). Once VPN is active your real IP address is hidden and you are using internet through IP address of VPN server you are connected to. All your data are encrypted and no one can spy on your online activity. However…if your device does not support VPN…
Watch Sherlock season 4 with Smart DNS
This is second option. You can subscribe only to Smart DNS service or you can choose (and we recommend this choice) VPN package as it comes with Smart DNS included. Smart DNS works in a bit different way to VPN. It does not change your IP address. Also, your data will not be encrypted when using Smart DNS. With a single setup you can access content from different regions (USA, UK & Poland) without the need to change connection. It will of course work on all devices, also those with no VPN support like Smart TV or game consoles. You simply start the TV/VOD app or enter website address and (if service is unblocked – like BBC iPlayer) our DNS server will do the rest, connecting you to relevant proxy server.
So… use VPN or Smart DNS and watch Sherlock season 4.  Click here to watch first episode.