Safe VPN purchase with Google Wallet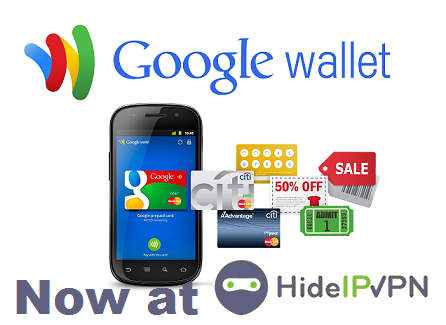 We are constantly  trying to improve our services. VPN servers, SmartDNS service, proxy access to US and UK, our customer support and our VPN software. Right now, we are opening our VPN service to new way of payments. Google Wallet. 
What is Google Wallet
Let's start with short definition from Wikipedia (as not all of you might have heard of the service).
"Google Wallet is a mobile payment system developed by Google that allows its users to store debit cards, credit cards, loyalty cards, and gift cards among other things, as well as redeeming sales promotions on their mobile phone"
We think these are very good news for all those of you who were interested in buying our VPN service to hide IP or Smart DNS unblock to stream music and videos from geographically restricted services in USA and UK.
We know, that quite few of you could have been stopped by necessity of giving us you credit or debit card details. After all we do not know each other. With all the scams happening in the internet, fake bank websites people are now more cautious than they used to be – and that is good. But at the same time, this might prevent them from increasing their security via VPN. With Google Wallet (if you are using this service) you are no longer forced to give us your payment details if you do not want to. At the same time you do not have to open account with PayPal or PayPro, which are similar payment systems to Google Wallet.
Simply choose Google Wallet as your payment option and as it goes in any other case – payment system will do the rest for you.
Use your Wallet today – get VPN!
If you were waiting for such option to pay, wait no more. Get the best VPN plan today and start being invisible in the internet. Encrypt your data, hide your IP, change your IP  for the one need or simply DNS unblock USA & UK!