SmartDNS as additional safety feature (sort of…)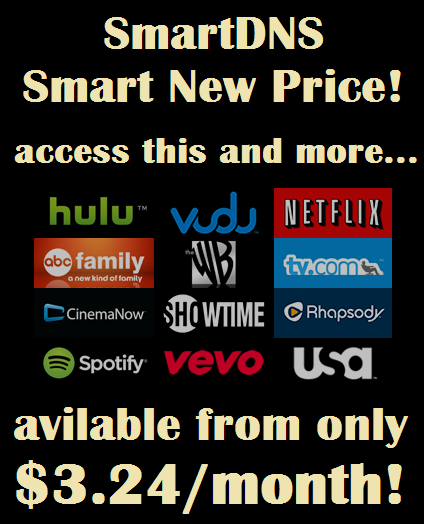 Before we will give you all the details of our thinking we need to clear one thing. There can be no doubts of any kind. SmartDNS does not increase your online in any way. It dose not hide your IP address, it dose not replace firewall or antivirus software. Smart DNS will not prevent hacker from getting into your computer, Smart DNS will not change or hide your location in a way encrypted VPN tunnel does. But still, users of SmartDNS can benefit from it in additional way. In general SmartDNS and associated proxy servers are your best, most versatile and easiest solution to unblock many different geo-restricted sites in USA and UK. In case of VPN 100% of your traffic is encrypted. You hide your IP address behind VPN server. And all sites and services see your new, virtual IP address – simply IP address of VPN server, but they "do not know" it is VPN not you. It is all great where safety and privacy issues are important, but not where you want to stream large amount of data – like with Full HD moves from Netflix. This is where SmartDNS is better and also..
DNS attacks on routers
In the recent days in Poland there was a wave of attacks on internet routers. According to newspapers over a million people were at risk. Clients of all providers were affected but apparently Orange network was the main target of the attacks. Hackers came up with the way of getting into some of the router used at homes. Hacker used method knows since 2004 of changing DNS address in router through it's backup. This way with "fake" DNS settings they made sure that if user wanted to open bank web site DNS server was transferring him not to real bank, but to "fake" web site. From there, when user wanted to make bank transfer SMS code that was coming to his phone was not really confirming transfer. It was confirmation that new, trusted contact (bank account no) was added. After that hacker was able to transfer funds it wanted, take loans, etc…
How is SmartDNS helping?
If you use a common (automatic) DNS setting on your router you will not know, until you look in your router, that something is wrong. That is if you know what DNS is and what setting should be set in your device. Even if you were hacked everything will work as normal, for days. Until you try to open bank website. This is when your router will transfer you to hackers site.
But, if you use our  proxy Smart DNS service via your home router, there is a good chance that you will notice that something is wrong before you get to the bank. Hacked router will not be able to open any of DNS unlocked sites.
So, if your Netflix, Hulu, BBC iPlayer or any other service you use is not working as it should makes sure to check setting on your device as you may have been hacked!
List of routers affected in Poland (check if you got one of them):
TD-W8901G
TD-8816
TD-W8951ND
TD-W8961ND
D-Link DSL-2640R
ADSL Modem
AirLive WT-2000ARM
Pentagram Cerberus P 6331-42
ZTE ZXV10 W300″ – sold in Poland by Orange and T-Mobile under providers name