Stream Grand Tour – only 4 days to go!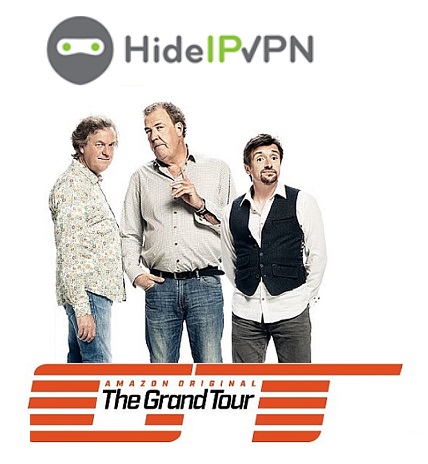 Let's face it. Last season of Top Gear at BBC was a true disappointment. We do say this with heavy heart, really. We did not have enough of strong will to go through all Top Gear episodes. But there are good news. Only 4 days left and and great anticipation will be over. On Friday, 11.18 we will be able to stream Grand Tour. New show made by Jeremy Clarkson, Richard Hammond, James May and quite few more members of Top Gear Team. The fact, that release day is so close raises quite few questions. Let us share ours with you. And of course we would love to hear what are your thoughts on the subject.
Stream Grand Tour with VPN or Smart DNS
We will start with one question we actually know the answer to. How you can stream Grand Tour anywhere in the world? Yes, we already have covered that subject in the past (watch Grand Tour with HideIPVPN), but since it is so close to "zero hour" we thought we will give you the basics here. In order to be able to stream Grand Tour you need Amazon Prime account. In the past, that meant paying for all other Amazon Prime services. Now, if you only wish to stream video content you can go for cheaper option. For £5.99/month UK account or $8.99 US account, you will get access to Amazon Prime Video service.
Setting up Amazon Prime Video account…
If you don't not have an Amazon account yet you need to get one. When setting up an account there are a few things you need to remember. You will need an US, or UK IP address in order to setup Amazon account located at desired country.  Those IP addresses you can get through our premium VPN service.  In order to stream video content you will need Smart DNS service. You can also use VPN servers – all can be used to setup account but only those – UK3, UK6 & UK8 to stream content.
When setting up account you can use any address but post code and city need to be real and matching. Once you setup your account it will not be possible to stream Amazon Video from a different region. Amazon requires different accounts for different countries. In another words, content availability is account dependent. Still, as we said – you need to change your IP address for IP of country you have registered your account to in order to stream content. All Amazon Originals should be available in all regions. However other titles will vary – as it was with Netflix. Now that, we are done with technicalities lets see what we are pondering in regard of Grand Tour.
Amazon Grand Tour – hopes, doubts & others
We know that parts of the show were shot at different locations around the world and the rest will be shot in UK, in studio. So can we expect similar form of the new show as to how Top Gear was?
If so, will we again see a part of the show called "the news"? We missed that in new Top Gear. Will new show have its own racing track to test cars? Will new show have it own "tame racing driver"? What will he/she be called? How will the driver be introduced – by "all we know, he's called…" or something new?  Will it dress white, as The Stig? Will it be faster than Stig? Will they invite celebrities to talk and race? And of course the most important question – will it be as much fun as Top Gear was? We suppose we'll know everything on Friday when Amazon will show the first episode of the new show.
Stream Grand Tour – summary
You have 4 days left to choose country and setup your Amazon Prime Video account. If you want avoid any frustration – do it now. Test our services to decide what is best for you and your devices. Click below to register for our free VPN or Smart DNS trial. See how it works. Let us know if you got any problems with setup.