Unblock YouTube, Facebook and Twitter in Turkey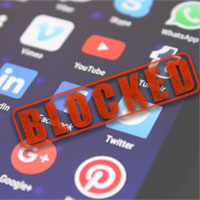 We hate publishing bad news for users about civil rights and censorship. Greed of corporations is one thing – nothing to be happy about, but a lot easier to swallow. Government, limiting what citizens can access in the Internet is something completely different. But with recent developments in Turkey we have no choice. Here is how you can say NO to censorship and unblock YouTube, Facebook and other social media in Turkey with VPN service. 
What has happened in Turkey?
As reported by different media, around 1 a.m. local Turkish time, on Friday access to social media and sites like Facebook, Twitter, Whatsapp and YouTube has been blocked. Access is not cut off completely. The method used to prevent Turks from using "western" social channels to exchange news, messages, ideas is called "throttling". Turkish ISP's are slowing down traffic from such sites to a point where they are unusable.
All this is done because of recent failed coup (in July). Turkey is in the sate of emergency and this gives its president Recep Tayyip Erdogan almost absolute power over its country and citizens. If you are in Turkey or going to Turkey here is how you can prevent such problems and also make sure that local, Turkish ISP and authorities will not spy on you when you use Internet.
Unblock YouTube & social media in Turkey.
Start with setting up secure account with HideIPVPN. This will give you access to our premium VPN servers located outside of Turkey. Once connected to VPN all the data exchanged by your devices will be fully encrypted. In reality it means that no one can see what sort of data and information you send or receive. But not only that! When VPN is active you can freely access any site you want – like the blocked Facebook or Twitter. What's more – you ISP and authorities will not be able to check what sites you are actually visiting and browsing.
To make sure that you are happy with the way VPN service works we would like to encourage you to register a free vpn trial. Sign up and see for yourself how easy it is to encrypt your data, hide your IP address and unblock YouTube, Facebook, twitter and other social media in Turkey.