Watch 24 on Hulu – Jack is back!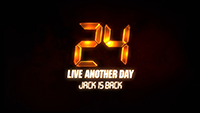 He is tough. He is adamant. He never backs down. He is the only person in the world that could face Chuck (Norris) and live to see another day. And now he is back! If you want to know how to watch 24 on Hulu read our post. 
Be careful with torrents…
… unless you do have suicidal tendencies. We are not the ones that would want to mess with Jack Bauer confidential files. If you care to read our two previous blog posts you will find out that P2P and torrents can be quite dangerous source for your entertainment. Especially, if you do enter this world unprepared. If you do insist of "hacking" you way into watching new "24" series we advise you do the same thing Jack did in the past – use professional IT backup.
Get VPN to watch 24 on Hulu!
Jack always worked with help of his CTU team of experts. You can hide your IP address. Hide online presence, cover your digital footprint, leave no traces of your activity. All that can be achieved with our super, secure VPN and (just as in CTU case) right VPN protocol. In order to secure outcome of your mission don't forget about software tool forged specifically for you – our free Windows, Mac OS X, iOS and Android VPN applications.
Watch 24 on Hulu – try free Smart DNS!
If you think all this "spying", downloading, hiding IP, securing you connections and encrypting your data via VPN is a bit much we have something much easier for you.
You might have read, that Hulu is currently at war with VPN technology. All major VPN services had their US VPN servers blocked and in most cases it is not possible to unblock Hulu via VPN. However you are in luck! HideIPVPN offer is better and more versatile. We give you easy, comfortable and working solution to unblock Hulu anywhere you want. Smart DNS proxy solution has been specifically designed for unblocking video and music streaming web sites in USA and UK. Some features depend on the service of course, but in general SmartDNS will allow you to stream your favourite TV shows and films to any device – tablet, phone, TV. Easy setup and no speed loss makes it perfect for watching HD quality video online.
HideIPVPN is proud to offer you Smart DNS as single service and cheap way to unblock most popular US and UK services. But we are even more proud that we do give you this great service included free in most of our VPN plans. Our users have total control and freedom how they will surf the internet and unblock geo-restricted content.